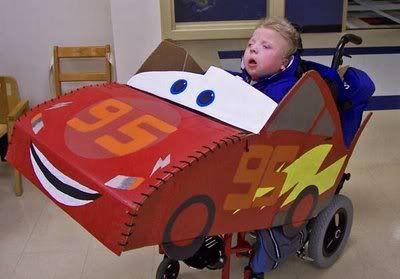 It started off at the end of October w/ Ben starring as Lighting McQueen at his schools trick or treat parade and dance. It took me a solid week working 3 hours a night to create this for him, but I loved it, his parents loved it, and so did his schoolmates. Ben loved to rev the engine w/ the little steering wheel and gear shifter that was secured to his tray!
This costume is too big for his family or I to keep around our houses, so it's FOR SALE!!! All monies will be donated to PKS Kids for research of Ben's disease and also to his class for them to buy more adaptive equipment for Ben and his classmates!
Ben and his dad also have some artwork left over from this season's artshows. They paint amazing work and charge meager fees. Check them out benandbenniewaddell.blogspot.com Read through the links on the left hand bar to find "art for sale" and also scan through their blog to find interesting info about all people in general and the Waddell's in particular. Oh yeah...they often throw in some new art to look at!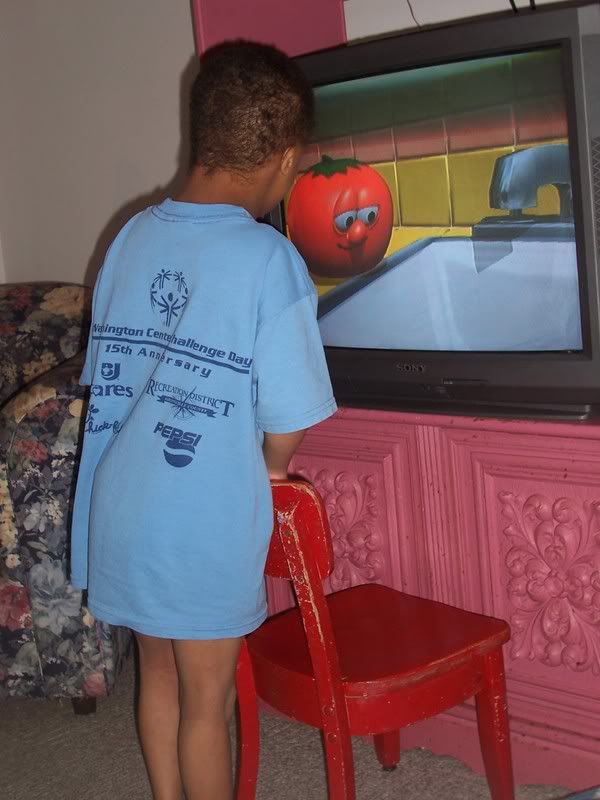 Rodney's in love w/ watching his own TV in his room,
or the new (to them) big TV in the living room.
Where ever he is you will find this little red chair.
He has learned how to put on a shirt by himself. A few Sunday's ago his mom gave him his morning meds and formula to drink while she got everyone else ready. She laid his clothes at the top of the bed like usual, and when she returned he was fully dressed!
Every few months this boy proves how wrong the doctor's are about kids like him and Ben! Rodney double his life expectency yesterday! He turned 8!!! They said he would go before 4...suckas!!! They don't care to feel the determination in these kids, their families, and caregivers!
I am sooo proud of the progress that Rodney makes everyday. We are already working on potty training, and I expect we could be in big boy pants by spring, at least for the day time! Look down there to see Rodney put his
shirt on by himself.
On a personal note: O.B. and I have decided its time to start trying again to create a Baby Boop. I planned all the days with birth control pills, vacation days, ovulating days, DTD days. So, I am now taking the 4th of 5 days of Clomid 150mg. It's a very high dose, and the drug has a tendency to make a perfectly sane person HOMICIDAL if the trash isn't taken out on Wednesday, the potty isn't wiped, fall leaves are brought into the house that has just been vaccuumed!
And to top it all of! I'm taking my psychotic tendencies to Disney World for 10 days w/ O.B. and friends-George and Jane Jetson! This is the place where DTD must happen everyother day w/o fail or we will fail again! So, here I am going pyscho about the planning for everything. I have to work 10 hours tomorrow, do laundry, take out trash, fold laundry, trim the flowers, pack the laundry and sundries, and do a general fall cleaning on the house so the realtor can show it anytime while we are gone! AND we leave in 2 days!!!!!!!!!
I promise to return sometime the 2nd week of December to give updates on "my boys", lots of pics from the Disney trip, and status "Yes or No" on Baby Boop!
Feel free to use the comment section to start a poll or a prayer chain about success of creating Baby Boop! It'll be an interesting story for him/her as they grow!!!